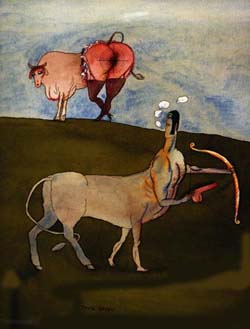 Farmer Miller got out of his car and while heading for his friend's door, noticed a pig with a wooden leg. His curiosity roused, he ask, "George, how'd that pig get him a wooden leg?" "Well John, that's a mighty special pig! A while back a wild boar attacked me while I was walking in the woods. That pig there came a runnin', went after that boar and chased him away. Saved my life!" "And the boar tore up his leg?" "No he was fine after that. But a bit later we had that fire. Started in the shed up against the barn. Well, that ole pig started squealin' like he was stuck, woke us up, and 'fore we got out here, the darn thing had herded the other animals out of the barn and saved 'em all!" "So that's when he hurt his leg, huh, George?" "No, John. He was a might winded, though. When my tractor hit a rock and rolled down the hill into the pond I was knocked clean out. When I came to, that pig had dove into the pond and dragged me out 'fore I drownded. Sure did save my life." "And that was when he hurt his leg?" "Oh no, he was fine. Cleaned him up, too." "OK,George. So just tell me. How did he get the wooden leg?" "Well", the farmer tells him, "Shit, when you have a Pig like THAT, you're not gonna eat all at once!"

Mike was driving his pickup down a country lane, when suddenly a chicken darts out into the road in front of him. He's just about to slam on his brakes to avoid the chicken when he realizes that the chicken has sped on ahead doing about 30 miles per hour. Amazed, he sped up to follow, but the chicken takes off faster and faster. Finally the chicken screeches into a turn and goes into a small farm. As he turns to follow, Mike notices that the chicken has three legs. He pulls to a stop in front of the farm house, and looking around, notices that all the chickens have three legs. He says to the farmer "three-legged chickens? Thats astounding!"The Farmer replies "Yep, I bred 'em that way--I love drumsticks." Mike: "Well, tell me, how does a three legged chicken taste?" Farmer: "Dunno, haven't been able to catch one yet".

A man walks into a bar, with a huge alligator on a leash. He walks over to the bar, and orders a beer. The bartender says, "Sorry sir. You can't bring that alligator in here! It's a dangerous animal, and you're scaring all of the patrons! True enough, the man looked around, and noticed that everyone was standing onthe tables, looking very nervous. "But wait!" he cried, "this alligator is tame! It wouldn't hurt anyone!" However, the bartender is adamant. "If," the man continues, "I can prove that this alligator is not vicious, can he stay?" "Well, I guess so," says the bartender, "however, you're going to have a devil of a time proving to everyone in here that tha alligator is tame!" The man smiles, and leans over the alligator. "Ralph!" he shouts, "Sit up!" With that, he beats the alligator on the head with his fist "BANG BANG BANG." And the alligator rears up on its tail. "Ralph, open your mouth! BANG BANG BANG." And the alligator opened it's huge mouth wide, revealing row upon row of gleaming white teeth. The man pulls out his wang, and lays it in the alligators mouth, as the entire bar crowd gasps. "Raplph! Close your mouth, but DON'T BITE! BANG BANG BANG." As the man pummels the alligator on the head, the giant mouth slowly closes, and stops juuuussttt short of biting the guys dick off. The crowd sighs, and the man says, "Ralph, open your mouth! BANG BANG BANG!" and the alligators mouth opens wide again. "There," says the man to the crowd, " now would anyone else like to try this?" A girl in the back says, "Yeah, I'll try, but only if you promise not to hit me on the head so hard."

A boy frog telephones the Psychic Hotline and his Personal Psychic Advisor tells him: "You are going to meet a beautiful young girl who will want to know everything about you." The frog is thrilled, "This is great! Will I meet her at a party?""No," says his Advisor, "in her biology class."